Honourable Mentions to related bands
Rock n roll is a messy business. Here be a brief trawl through bands that at one time or another contained a Bead or two.
SA supplies the dismissive remarks and his best guesses of dates etc .
If you, dear reader, have recollections or opinions about bands listed below, those in the Croydon Musicians Collective, or even, God forbid, Marginally Sinister, please email us (though we are resolutely not interested in 1,000,000 boring pub rock bands).
Ring Ooooh, Ring are so important they get their own page! See Ring Thing.
Trotsky and the Goats (early 80s)
Strictly speaking, Paul's second band (after ska covers outfit Party Six) but the first time SA saw him onstage and thought "Crikey, its Purley's answer to the Stooges, playing Jam covers, horribly ". For years the Goats were a byword for raw dissonance.
Peru (Paul, Bob, Graeme Neale, Brian Charman). 1983-85.
A jazz punk band. 82-83-ish Paul was busy trying to marry the guitar styles Wes Montgomery and Geordie, Brian grinning, Bob surreptitiously slipping in Sting-type bass lines, with Graeme being the mentalist Van der Graaf Generator-obsessed small Disney elephant at the helm. Once got a review by the late John Walters for "Walters' Weekly" (R1), giving Bob White his first exposure to media praise, and possibly Brian's only exposure to media praise?.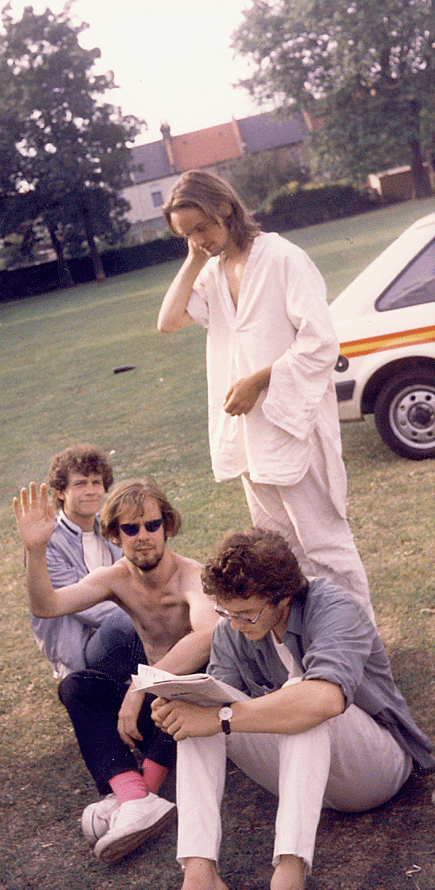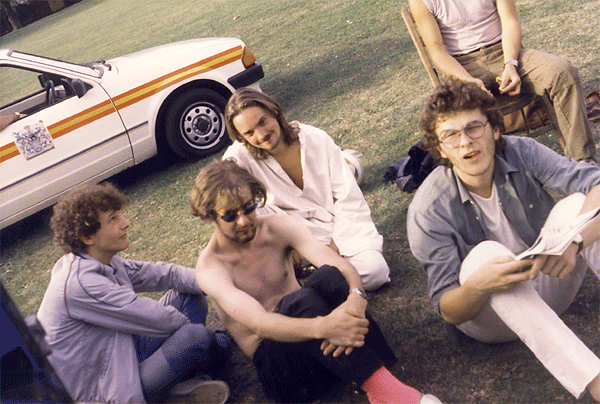 Above. Peru in Melfort Pk, Thornton Heath, for Croydon Musicians Collective Festival. Includes future Beads Bob White (reading) and Paul Howard (in white).

Peru Tapes;
Fred the Head's Demo
"60p for 60 Minutes" (sold on cassettes Graeme must have found at the bottom of a lake).
One track (Cheet) on Primitive Package, a 1985 EP produced by Phil Vinall (who later went on to produce some fairly well known indie records e.g. first Auteurs album).
Graeme Neale later made solo tapes as God (Ego by God and Everything by God).
Sleevenotes of the former below.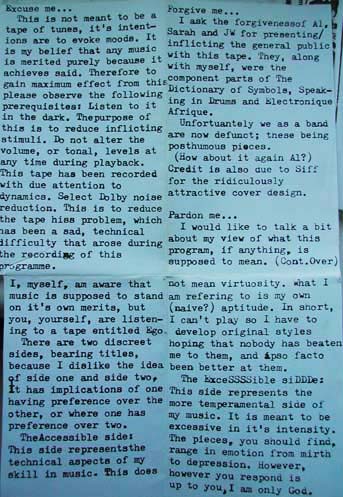 Bing Organs' Beastley Scrapings. (mid 80s) Pastoral Folky offshoot of Zatcb, Paul and Mik on nylon guitars and Rachel Howard singing.
Infamously took less than a pound (i.e. less than their bus fares) over a whole day of busking in Richmond. That's a reflection on mean, cloth-eared Richmond-ites, rather than on the band, you understand. Photo elsewhere on the site.
Alpha Road (Asif, Andrew, Clive, Mik Tubb, Brian/ Den) 1983-85ish.
English psychedelia of a kind most unfashionable at the time, but raved about when The Coral had similar ideas recently. Asif played in very early incarnations of ZATCB. He was a front-man on the edge, but his inclinations towards overblown prog-metal (later given all too free rein in Abfinoosty) were manfully held in check by the disciplinarian organ of Andrew Parish, Clive's melodic guitar and 60s pop brain, and Brian's frisky drums. Briefly seemed to be the house band of the Dog and Bull.
Appeared on another Primitive Package EP (but not the same one as Peru) in the mid 80s .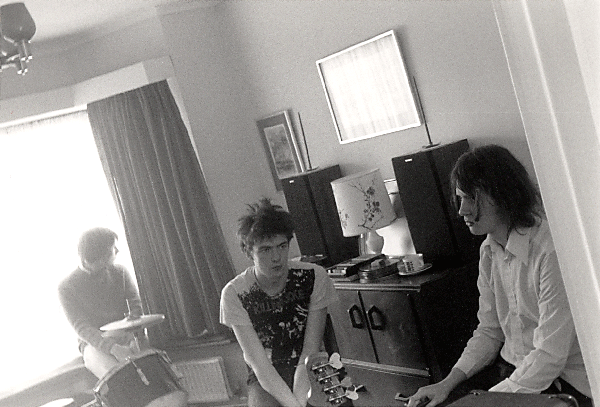 Below. Alpha Rd onstage at Vines Cross. "I am a hollow man..."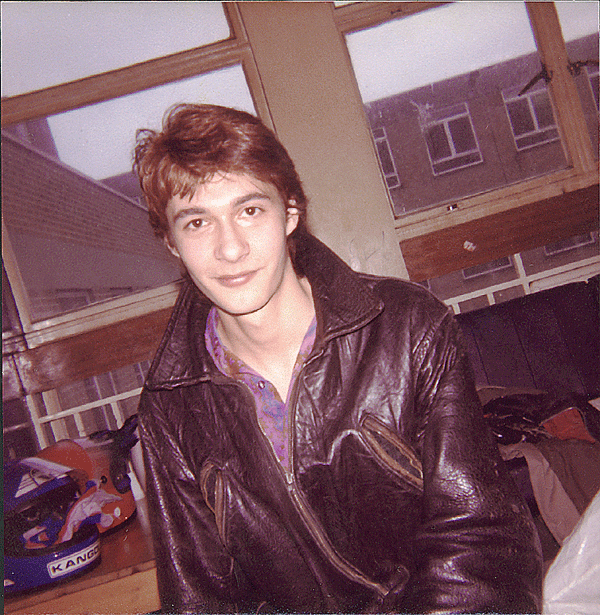 Asif smoulders in leather, circa 1982
Gloup (feat. Clive and Andrew)
Arose from the ashes of Alpha Road to produce an eponymous tape – an alternately sweet, angular, funny, but underlyingly melancholy thing that touched on genius. Tracks included Methylated Man, The Singing Bell, Open Car and Good News for Fieldmice. Think Love, etc. This tape really deserved a wider audience. Gloup went on to become Lunar Goose, who played live, but frankly weren't as good.
Purple People Eaters (mid 80s). Psychedelic covers, played Deptford Crypt, Chiselhurst Caves (?). Various beads filled in occasionally on bass , drums etc.
Tom's dodgy Goth Band (early 90s?).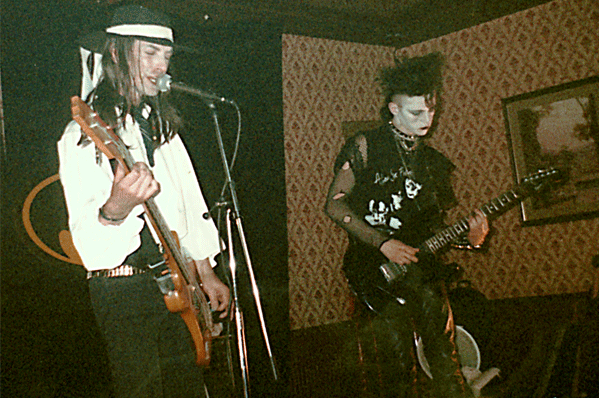 Levitation .1990-95.
(aka Limitation, aka Bob's dodgy goth band). Oh for heavens sake, you surely know all about these indie-prog luminaries already! If not, check our link to their now defunct site / Google 'em.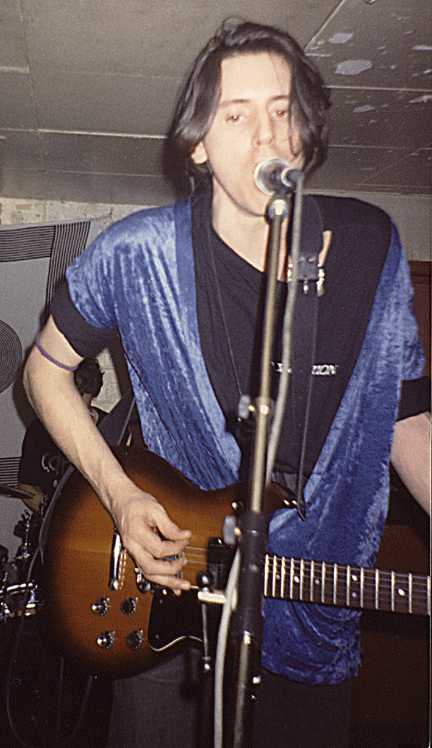 Terry Bickers at 1st Levs gig, Hampstead White Horse I think. It was one louder than loud .
The 5th Purley Girl Guides . 1992.
Paul joins Alan (later of Luke Slater) and DJ Leslie for live electronic experiments.
Was that Brian May grooving in the audience?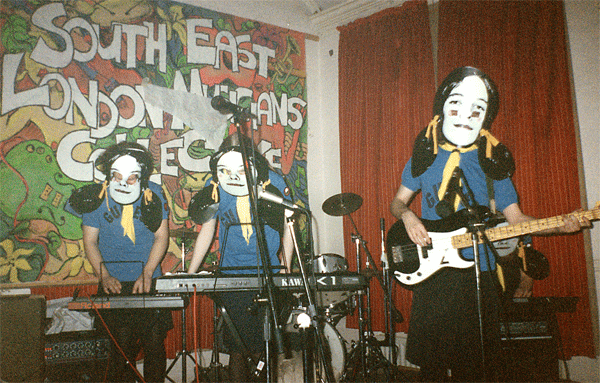 The Topsters (John Singh, Steve, Mik, Mike, Rachel, Debbie/Jill, Leslie). Mid 90s.
Tape. The Very Best of …
Disco and other covers, including a rather special What's New Pussycat.
Will play anywhere for sherry.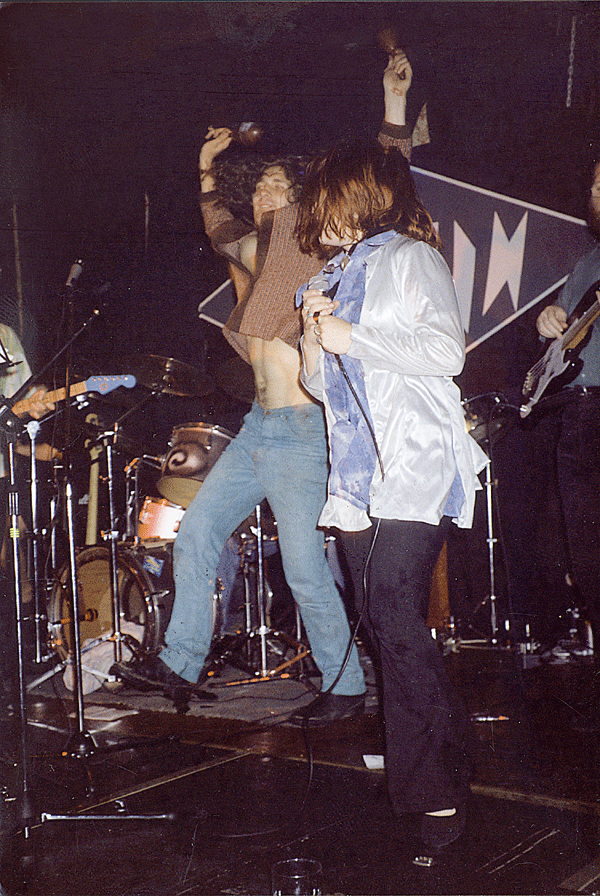 Tom's Devon based disco band (late 90s). There's a wonderful publicity shot of this lot, in matching red jumpsuits and bubble perm wigs, but sadly for you I do not have a copy to hand.
The Milk and Honey Band (Bob, Mik, cast of 1000s) 1995-present
Euphoric Hard Trance, very big in Uguary. Have own website (see links) and recently released 3rd album , The Secret Life of …, on Andy Partridge's Ape label.
Riske Little Dick/The Taffettes (80s) (Mik, Taff, Alan, Sarah + many contributors) Many tapes of sonic Experimentation and ambience, influenced by Eno, Penguin Café Orchestra etc. Their big hits included Skinhorde's Contusion, Hues & Shades, and Rocking Sexily in Bins.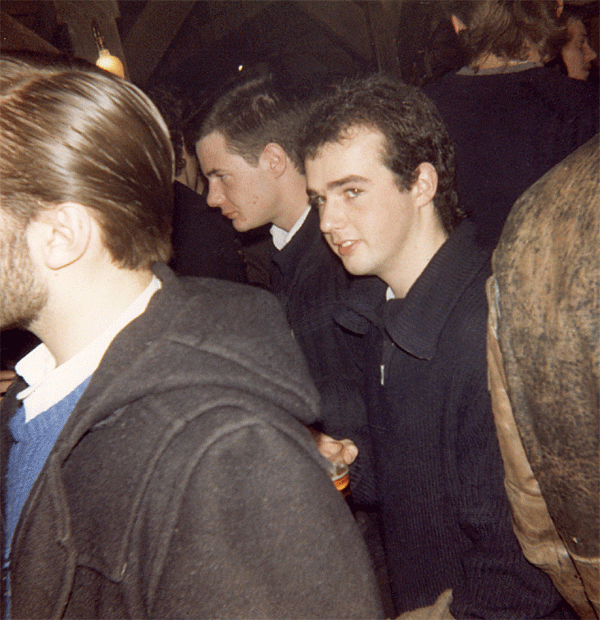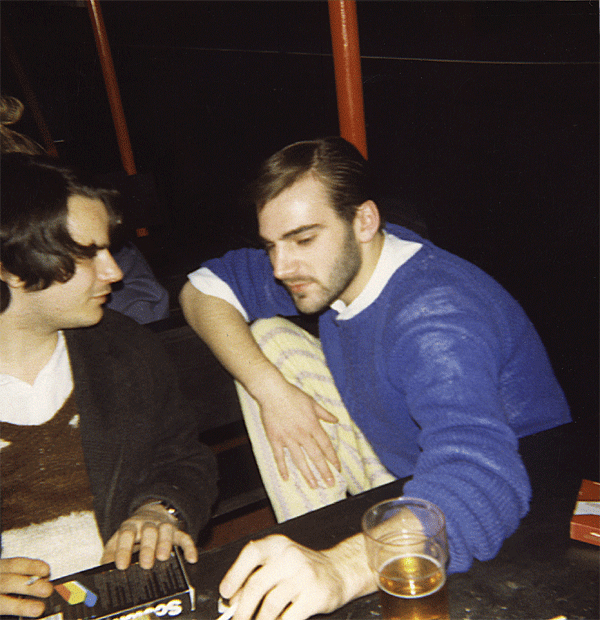 Left. A startlingly fresh faced Taff from the early 80s, + half of Alan. Right. Alan with John Wilkinson, vocalist and whip-wielder of the Purple People Eaters.
Second Sight. (Early 80s.) (Gareth Cousins, Jackie Piercy – and on various occasions Zag, Steve, Paul…). What happens when a 17yr old songwriter and rudimentary guitarist draws inspiration from Justin Hayward. File under "Fever" (in the Doy lang sense) or possibly No Pleese. Gareth has since gone on to be a successful sound engineer (at Abbey Road etc) and make more money from music than the rest of us put together!
Below . Second Sight L-R Jackie, Gareth, Paul Howard skulking on far side.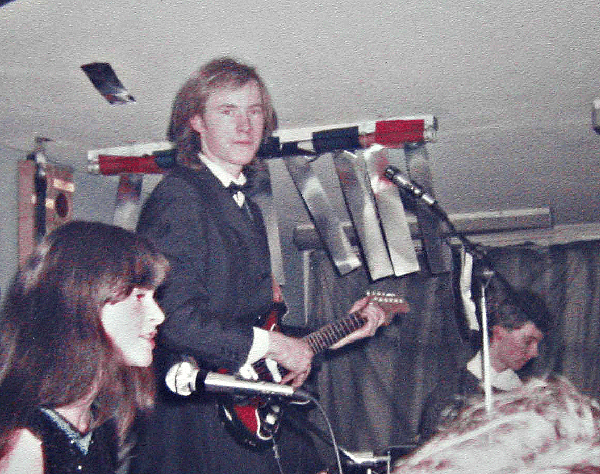 and, by way of contrast...

PCP. (late 90s). (various stars, led by John Bollax, Mik played bass) loud, crude, aggressive, funny, but so, so doomed. Sort of like a precursor to Goldie Lookin' Chain, although, in truth, not as good.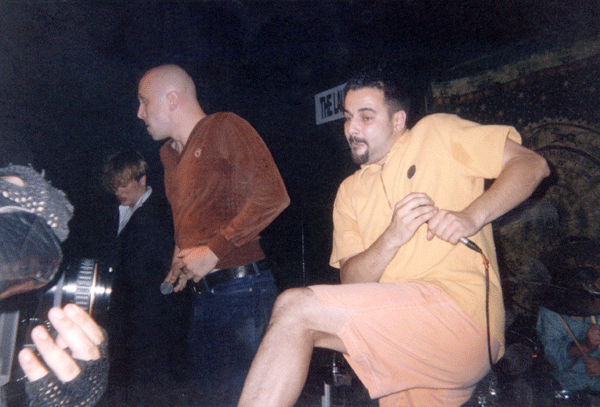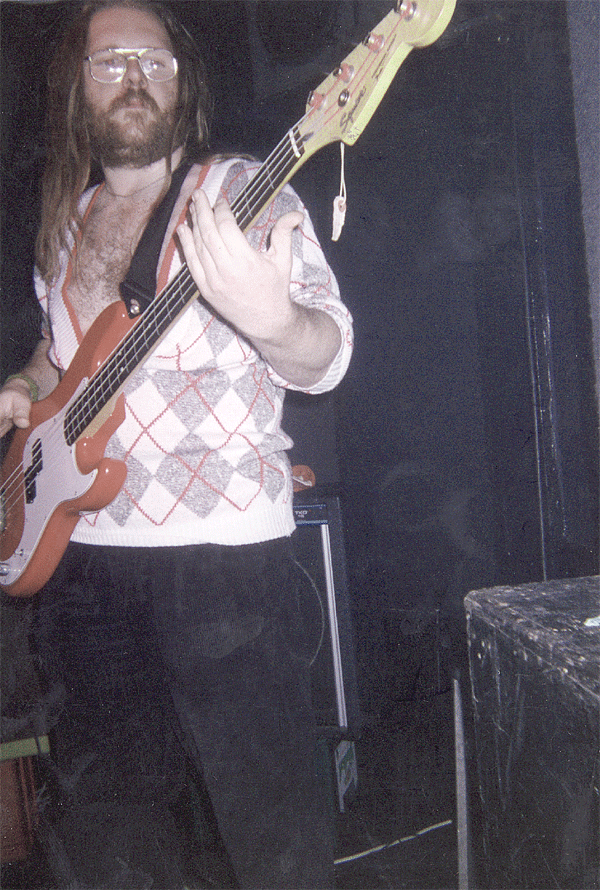 The Toretz (2004 – present) – Tom's current band, based in Exeter.


Finally. No one from the Beads was ever in BARNIMAGREW, but they still have to be mentioned. Note that Sooty was a fan. He never spoke publicly of his appreciation, though he may have whispered it to Sue.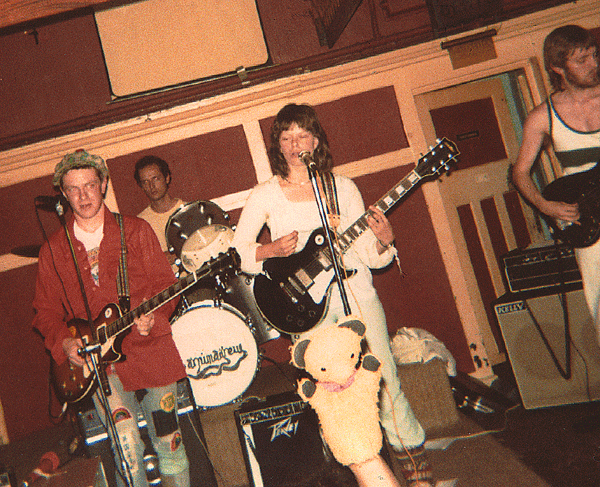 That's all I can think of for the moment. SA.
FAQs | CDs, tapes etc | Gigs | Tunes | Contact |home