Other recordings of ZATCB, plus other music Steve and Mik have done since

Those so marked as CDs are available to purchase , for some token cost-covering amount yet to be decided.

1980
Emergency X Rays (the beads, pre the Beads name)
Zag and the Coloured Beads – Volume 1 .(....and youre in the Lambrettas arent you??)
Zag and the Coloured Beads – Powerhouse of Noise . "Some have got flat hats some have got round ones, but theyre all the same, all they wanna do is pick on me, No Police State For Me, ALRIGHT ! ")

1981 - 82
Ming and The Fods
Doodle-a-dup-dup
"College" Tape
Live at the Warehouse
Foggy Eggs

1983
Zag and the Coloured Beads – 1983 Demo (will be transfered to CD )
Live at Vines Cross
Slops
30 minutes of playing wine glasses in Tom's runt's kitchen

1984 – 5
Various SA solo and ZATCB jamming tapes including Thackeryvision, Elkwiper, F.E.C. Action, A Golden Treasury of Songs and Lyrics . Taff recorded us at Tom's house around this time but no idea if a tape survives. Cutest little thang ah EVER see !

1986
Loaf of Legs (available on CD)
SA solo tapes including Birazze Persu
Key-foot (but who's got a copy of this legendary session??)

1987
Live at the Star
SA solo tape The Unemployable Miss Arthur – my favourite solo set, a lost gem albeit a rather trebly one even if I say so myself etc. (available on CD)

1988
Sawtooth Gripmaster (or was it 87?) (available on CD)
A further must-have CD of Beads odds & ends and live tracks will be compiled in due course.

Apefrogs, from the dying days of Zatcb , includes one riff/jam which arguably documents the precise moment we disappeared up our backsides. Also contains material later to emerge again on ….
1989
Wryneck – Bathtime with Wryneck (first appearance of the name, but this is basically a solo set with occasional assistance from Mik, Andrew Parrish etc). Takes the well worn "quiet side / loud side" approach. Quiet more successful. Loud betrays that My Bloody Valentine were v much flavour of the month for me then. Pleased with the loud ones as tunes, but recorded too ropily.

Wryneck proper begins around 1990.
1990
Wryneck – Wryneck (line up Mik, Steve, Tom) (available on cassette)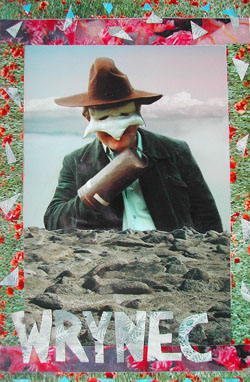 Above . Original cover art by Rachel Howard. Uunfortunately the "K" has gone the way of the Venus de Milo's arms and the Sphinx's nose .
Tracks include: Martin Amis, Slow Truckhouse, Canoe , Kodiak , Sunday Samba, Harold Green, Doris Cream…..
Red Hot Crumhorn
1991
Wryneck - Swosh Mixes , hours of jamming and demos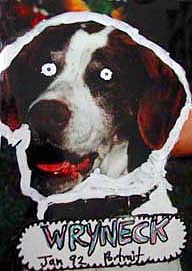 Rehearsal tape cover , featuring Tango (photo by Karen Herbert)

1992
Wryneck – Blackwing Studios Demo. A most enjoyable free week in a proper studio – sadly a shit product at the end of it.
1993
Wryneck – Instant Confidence (available on cassette) – joined by Leslie on bongos.
SA . I'd always thought this was the better Wryneck set, as I'd enjoyed recording it more, and we were a pretty tight live band (after only 10 years of trying) by this stage. It took Leslie aka Leisurely to recently point out that the songs really weren't as good, and he has a point. All the same, this set includes Clint, Walnut Whip, and Bourneville to name but three…
Alternative covers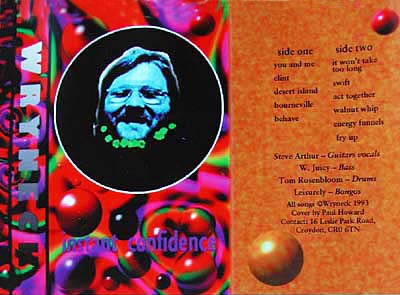 NB a sprawling two CD set (150 minutes !) of our favourite Wryneck moments is now available for £47,8899 o.n.o. Track lists as follows

Wryneck Compilation CD 1
1 Doris Cream
2. Clint
3. Bourneville
4. Behave
5. Slow Truckhouse
6. Kodiak/My Perfect Beast (rehearsal takes)
7/8 . Yellow Bowl
9. Harold Green
10. Canoe
11. Hey Ya
12. You & Me (rehearsal take)
13. Act Together
14. Walnut Whip
15. Tubb Get Out Of His Way
16. Isadora
17. Ronnie Hazlehurst

Wryneck Compilation CD 2
1. The Bitter Principle of Wormwood
2. Helicopter aeroplane
3. Desert Island demo
4. Possibly Good
5. Wrong end of the stick
6. Funk symphony
7. Hot rays of Sun
8. Misleading bass riff
9. Bahrain
10. Sunday Sam(ba)
11. Loud Waltz
12. Yellow Bowl (Jun 91 subspecies )
13. Harold Green Megajam
14. Kodiak well recorded
15. to be confirmed
16. to be confirmed
Martin Amis left out in the cold.

1994
Millennium Falcon (Tryst – see below - with a drum machine) demos. We covered Ace of Spades (doesnt everybody?)

1995
Molten Parsnip Ordeal
The Ruling Trifles
I am the Anti-Bolton (NB a reference to Michael Bolton. I bear no grudge against the northern town, you understand)

1996
Jill Sings tape. An EP of covers featuring Life's Been Good, Mr Carpenter, Once Bitten Twice Shy and Queen Bitch. Sung by Jill !

Silly Games/Mickey double A Side . Yes, they are covers of the Janet Kay / Toni Basil classics. SA and Rachel also filled those long winter evenings by recording a Pet Shops Boys / New Order style version of All the Young Dudes.

1997
Tryst (Steve, Mik, John Singh, Debbie Jewell) Demo (available on CD). SA - I liked this stuff, the closest I ever got to normal pop songs, but unfortunately the band imploded before we played live, and these rough demos are all that remain.

1998
Coiled Piece of Shit with a Red End - later repackaged with the less unsavoury title….
The Jet-Set Marmoset Set (SA)

Then it all went quiet from me though I plan to compile much of the above onto a series of CDs pretty soon. Mik remains musically busy with Bob in the Milk and Honey Band, in the Telewest boys, and other projects.

SA April 05
-----------------------------------------------------------------
FAQs | links | Gigging thing | Tunes and audio files | Contact | The Croydon Scene | Home